Sirius won first place and Rigel won second in the adult grey male class at the 2013 National Show. Royall has often had the animal he wasn't holding do better so Paul Thibault kindly led Sirius for us, then they switched for the photograph. Sirius is now owned by Matthew and Cathy Lloyd of EP Cambridge.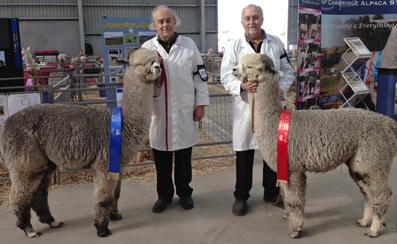 Gunpowder was selected for the auction held on October 13 with the National Show in Bendigo and was sold to Janie Hicks and Ian Davison of Coolawarra Alpacas.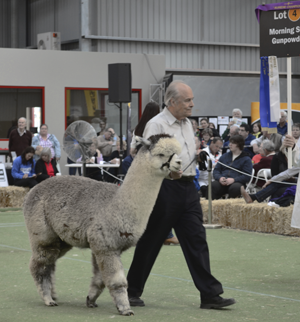 At the Charles Ledger Show in Moss Vale this September 2013 Morning Star Florimond, by Ekeko and out of Florissima, won a large, strong class of adult grey males for his owners Gunnamatta Alpacas. He looked magnificent.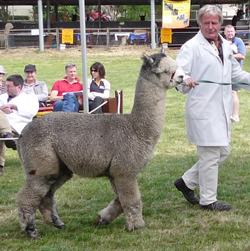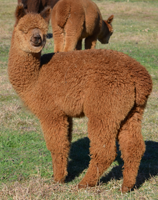 We ourselves did well, with a first place for junior brown male Chrys. Chrys was born to a recent purchase, Timbertop CT Giselle, and is by Timbertop Incognito.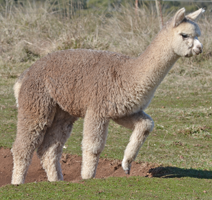 There was also a second place ribbon for junior grey male Palantir. Palantir is by Ekeko and out of Platina, a Platinum daughter who herself won the intermediate grey female class at the Charles Ledger Show.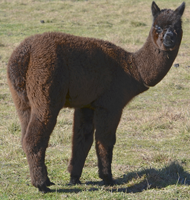 And Sybil came second in the junior black female class. Sybil is the daughter of Almora Chevalier Noir and Silver Cloud, an older grey female by Inti.
Show news for 2013 earlier: At Colourbration in Victoria Gunpowder came third in the adult grey male class and Rigel was highly commended in the intermediate grey male class. We were unfortunately unable to show Boreas because his fleece was too much affected by the dampness.
At the Gunning show on February 17, 2013, we won Best Grey and first intemediate grey male with Gunpowder, first junior grey male with Rigel, third junior grey male with Sirius, second junior black female with Ninette, and fourth place in sire's progeny for Ekeko.

Then we took the same group to Goulburn and won second junior grey male with Rigel, second junior black female with Ninette, first intermediate grey male and reserve champion intermediate male with Sirius, and third adult male with Gunpowder.
The next day at the Moss Vale show we took two black offspring of Romulus only just turned six months old. Minerva won a blue ribbon in the junior black female class and Boreas came first in the junior black male class. We don't have photos of the Goulburn and Moss Vale shows since Royall went alone while I was on cria watch at home.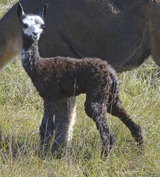 Two crias did arrive on the day of the Moss Vale show and the last of the season, Galatea, a grey female, was born to Florissima on April 24.
We were given the opportunity to use a fine black male, Almora Chevalier Noir, last autumn. Now, some of our grey matings have produced black, so we have more black crias than expected, including Evander, an intensely black male out of Blueberry and by Ekeko. They are very exciting!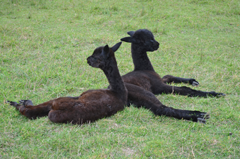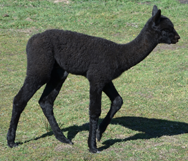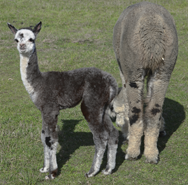 Chevy sired one grey for us, Livinia, out of Maya, a daughter of Ekeko.
I have added to this page some photos I particularly like. With one we say good-bye to an animal purchased in great happiness in 1997.
The crias resting.

Platinum in the front paddock in summer 2012.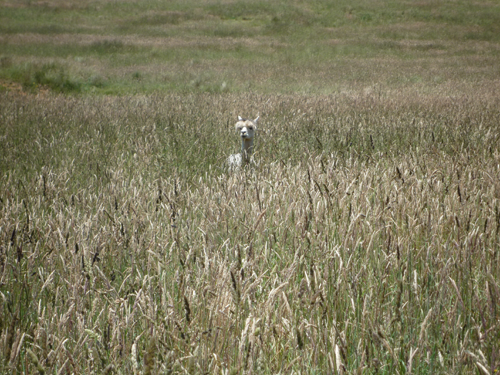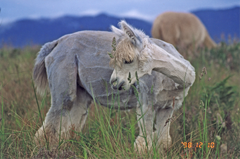 Forestglen Georgina, passed away in December 2012.
A quiet afternoon in autumn 2013.